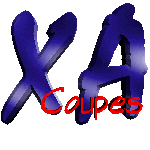 The XA falcon was a dramatic styling change from the previous XY, there was always a direct correlation between the Australian falcons and the American counterparts. But in 1970 the falcon was dropped in the US. And since the falcon was a leading car on the Australian market it was common sence that Ford Australian would have to go out on there own and produce a totally Australian falcon. (No styling references from US vehicles).

The XA falcon was born, a more aggresive stance was taken over the previous models. Six months after the XA's debut the coupe version was launched. The Falcon 500 was priced at $3355, Fairmont $4121 and the nastiest of them all, the GT at $5203 (Everyone wants a GT).

This is my fathers XA Coupe. He purchased it in 1973 from Etheridge Ford Lilydale and sold it in 1979 when I was 6 months old. Notice the sign writing and custom bike rack on the roof?